Yardi's Paul Orrock hosted a discussion alongside Abigail Groves from The Instant Group, Rob Stevenson from Techspace and Jonny Rosenblatt from Spacemade about the ever-changing relationship between commercial real estate and flex at GCUC Flex Fest 2021.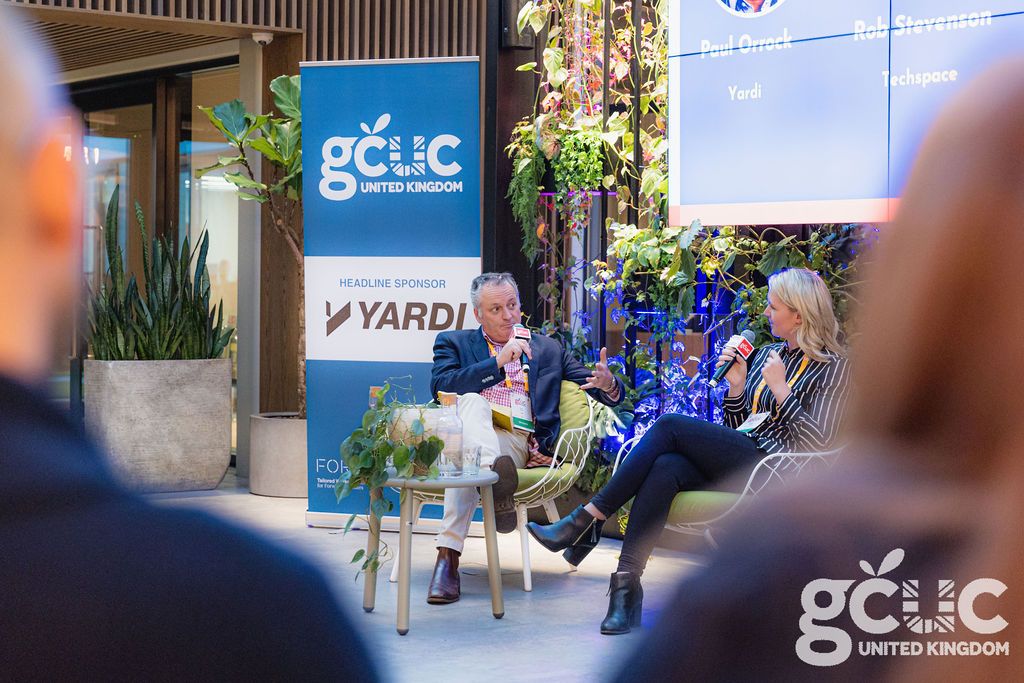 As the traditional office continues to move towards hybrid ways of working, what does this mean for the future of commercial real estate? Paul opened the discussion by asking the group, what are the barriers of entry to flex from a traditional landlord perspective?
Rosenblatt began by stating it is doable. "I think landlords are able to enter this market, but fundamentally it is a totally different business model," said Rosenblatt. He continued to explain how real estate owners don't have the infrastructure but, "Real estate is probably one of the very few industries where you can have a multi-billion pound business and actually only have six guys in an office running them."
He described how with flex, it's about the product development and building a brand as well as technology integration. It's about the cost of the journey and the customer experience, which is "very different to what a traditional real estate angle may look like."
As customer demands have changed over the past decade, they're wanting to utilise a space in a way that's more akin to regular consumer habits, such as how we consume films and music on-demand. Rosenblatt added that, "Flex is very well set up for this major dynamic shift towards hybrid working that perhaps the commercial real estate world traditionally is not."
Groves added, "It's not necessarily about being a big brand in a particular way, it's the ownership of brand that brings communities back to your sites. It's knowing what you want to be in the market and where you want to service."
Hybrid working encourages smaller offices
The conversation moved to life post-pandemic, what are people looking for with their workspaces? And how has that changed from what they were looking for before?
Groves said, "Two years ago the headlines were saying 'the office is dead', and now the patterns are showing clients moving to hybrid working. Some people were really pushing to get back into the office, and we've seen a spike in one to three desk offices, but for big corporate clients."
Groves continued to explain how their clients are valuing being able to get together and have somewhere else to work with a good quality of space. However, she believes in another 12 months "We'll be looking at very different patterns again."
Stevenson agreed and stated, "We're seeing much larger requirements for smaller spaces, a good example is last week we closed a deal with a 500-person company in our Berlin office. They've taken space for 100-people. We've never seen these kinds of ratios before, and the question is, is this a permanent shift or is this just for the next 6 months as people figure out what the office looks like?"
Retail units convert into flex spaces
Orrock described how banks are shying away from retail only investments, so how will operators or landlords mix up their offerings? Rosenblatt believes, "Traditional retail units aren't generally suitable for a working environment." However, Spacemade recently converted an old pizza express unit into a flex office which has been widely successful. Rosenblatt specified that the unit has natural light – something retail units don't often have, which may be an issue with traditional retail units, "No one wants to sit somewhere where there's no natural light coming in."
Groves agreed that retail units are often overlooked, but with the right space and the right operator, it can work and be a great location for a flex office. However, it is a case-by-case basis, but something that shouldn't be ignored.
The biggest challenges of entering the flex space
It may still be too early to decide how the future of the office will look, but one thing for sure is that the future is uncertain. Groves believes the market will change again in another 12 months, but what will remain the same is facilitating the needs of the client.
Rosenblatt believes it's finding the right people, "With a difficult hiring market and lifestyle changes, it can be hard to find the right team that share the same mentality, ethos and are passionate about flex", whereas Stevenson believes it's site selection.
"You need to choose the right sites and make sure you're disciplined about where you go about growing your business. If you make the wrong decision on your sites – you're stuffed – and it can cause a lot of trouble for you." Where and how we work is changing and by embracing flexible workspaces, you can continue to support the demands of your consumer.
See how you can automate your space with Yardi's all-in-one coworking solution, Yardi Kube Space Management.